Cruise Offer
3-Day Getaway Cruise
August 18, 2023
Carnival Cruise Line: Carnival Splendor
Roundtrip Sydney
Vacation Offer ID 1450486
Reference this number when contacting our travel specialist so we may better serve you.
|

|

|
Cruise Inclusions
3-night Cruise
Meals
Entertainment
Available Add-Ons
Optional roundtrip airfare / transfers from your city.
Optional shore excursions.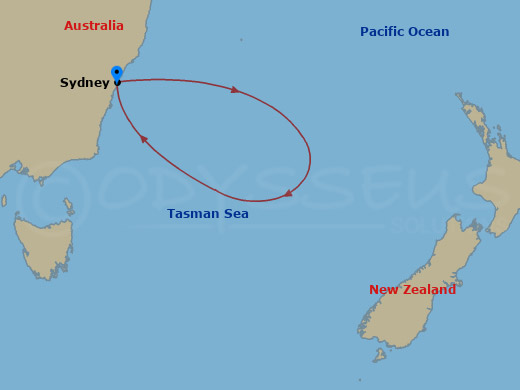 Destination Guide
Suggested Shore Excursions
| Destination | Arrival | Departure |
| --- | --- | --- |
| Sydney | 08/18/2023 | 08/18/2023 04:00 PM |
| At Sea | 08/19/2023 | 08/19/2023 |
| At Sea | 08/20/2023 | 08/20/2023 |
| Sydney | 08/21/2023 06:30 AM | 08/21/2023 |
It's hard to tell which onboard space best represents Carnival Splendor — they all seem to hint at the amazing time you're going to have. El Morocco Lounge hosts comedy shows, musical performances, karaoke and more… and wears its 1930s namesake clearly on its nameplate. The words "Royal Flush Casino" incite visions of winning, while the onboard jazz club's moniker — The Cool — simply says it all without saying a word. And the Pinnacle Steakhouse can be found not only at the height of elegant dining, but at the apex of the ship. If you like your fun to flow, there are options aplenty. If you list "splish"and"splash"among your favorite terms, there's the Splash Park. Those into sitting and sliding are invited to try the signature Carnival Twister Waterslide. How about floating or swimming around? Carnival Splendor has pools all over the place, including the midship pool featuring a retractable roof that makes any day a pool day. So whether you splish or splash, you'll find hydro-excitement galore. If relaxation is more your thing, Serenity Adult-Only Retreat is more your place. Or if you're looking to take relaxation to the extreme, direct your attention to the Cloud 9 Spa, featuring more (and better) ways to kick back than just about anywhere else, on land or at sea. You haven't lived until you've relaxed in a Thalassotherapy pool, or chilled — so to speak — in a dry heat chamber.
Ship Statistics

Year Built

2008

Year Refurbished

2016

Year Entered Present Fleet

–

Previous Name

–

Country of Registry

–

Tonnage (GRT)

113300

Guests (Lowers)

5970

Total Guests

3006

Passenger Decks

13

Number of Crew

1150

Officers' Nationality

–

Cruise/Hotel Staff Nationality

–

Total Rooms

1506

Suites

54

Balconies

537

Ocean/River View

314

Interior

601

Accessible

7
Suite
Balcony
Oceanview
Inside
Rates are cruise only, per person, based on double occupancy. Government fees/taxes additional for all guests. Fuel surcharges may apply. Please ask your travel counselor for details. Rates are subject to availability and may change without notice. Restrictions may apply.
Cruise rates are in US dollars, per person, based on double occupancy, capacity controlled and subject to change at any time without prior notice. Government taxes and fees are additional for all guests. Ships' Registry: The Bahamas & Panama.
All fares are quoted in US Dollars.
Information and pricing is subject to change without notice. While we do our very best to ensure that information and pricing appearing in this website is complete and accurate, we cannot be responsible for incomplete and inaccurate representations, which may or may not be under our control. In the event of a pricing error, misrepresentation or omission, we reserve the right to adjust the pricing or make any other corrections.