Cruise Offer
3-Day Bahamas Cruise
August 18, 2023
Carnival Cruise Line: Carnival Liberty®
Roundtrip Port Canaveral
Vacation Offer ID 1428334
Reference this number when contacting our travel specialist so we may better serve you.
|

|

|
Cruise Inclusions
3-night Cruise
Meals
Entertainment
Available Add-Ons
Optional roundtrip airfare / transfers from your city.
Optional shore excursions.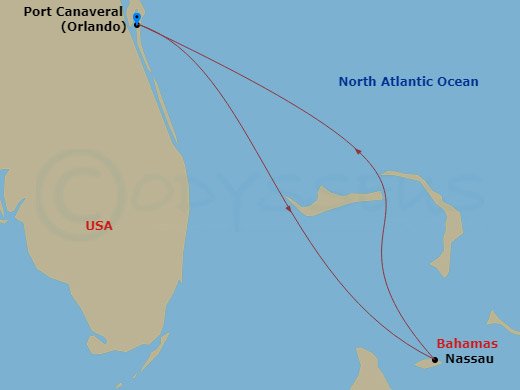 Destination Guide
Suggested Shore Excursions
| Destination | Arrival | Departure |
| --- | --- | --- |
| Port Canaveral | 08/18/2023 | 08/18/2023 03:30 PM |
| Nassau | 08/19/2023 10:00 AM | 08/19/2023 07:00 PM |
| At Sea | 08/20/2023 | 08/20/2023 |
| Port Canaveral | 08/21/2023 08:00 AM | 08/21/2023 |
There should always be a great time at sea. Carnival Liberty feels the same way! This is one ship that's ready to put its fun where your vacation is, with plenty of ways to enjoy your time away. All day long, Carnival Liberty can be found serving up signature burgers designed by Guy Fieri, right there at Guy's Burger Joint™ and look, just over there is SkyBox™ Sports Bar - a double-header of a sports bar that brings together live sports on TV and lively sports-gaming competition oh, not to mention great drinks! Enjoy BlueIguana Cantina™ tacos and burritos on Lido deck — made fresh, and fast, while you wait — plus two great bars: one rum-slinging, one tequila-wielding, both dueling for your heart. That's right, just a quick stroll from RedFrog Rum Bar® you'll find BlueIguana Tequila Bar™. On the entertainment side of things, Carnival Liberty features two of best, live on stage. First there's Playlist Productions™, where pros sing and dance their hearts out, performing high-energy themed revues of tunes you know, backed by amazing visual effects. Then there's Punchliner™ Comedy Club where you'll find some real pros who know how to wedge a little laughter into anyone's evening. Kids have three unique youth spaces where they can hang out with others their age and enjoy supervised activities, games and more. You might call Carnival Liberty a vacation spot that's just full of great vacation spots.
Ship Statistics

Year Built

2005

Year Refurbished

2016

Year Entered Present Fleet

–

Previous Name

–

Country of Registry

–

Tonnage (GRT)

110000

Guests (Lowers)

5910

Total Guests

2974

Passenger Decks

13

Number of Crew

1160

Officers' Nationality

–

Cruise/Hotel Staff Nationality

–

Total Rooms

1487

Suites

54

Balconies

521

Ocean/River View

304

Interior

608

Accessible

–
Suite
Balcony
Oceanview
Inside
Rates are cruise only, per person, based on double occupancy. Government fees/taxes additional for all guests. Fuel surcharges may apply. Please ask your travel counselor for details. Rates are subject to availability and may change without notice. Restrictions may apply.
Cruise rates are in US dollars, per person, based on double occupancy, capacity controlled and subject to change at any time without prior notice. Government taxes and fees are additional for all guests. Ships' Registry: The Bahamas & Panama.
All fares are quoted in US Dollars.
Information and pricing is subject to change without notice. While we do our very best to ensure that information and pricing appearing in this website is complete and accurate, we cannot be responsible for incomplete and inaccurate representations, which may or may not be under our control. In the event of a pricing error, misrepresentation or omission, we reserve the right to adjust the pricing or make any other corrections.